0 People Power Jigsaw Puzzle People
by

Kingsley Hugh Smith

11/16/2023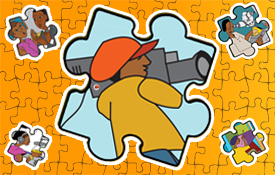 Do you appreciate the professional nurse, who is serving their patient with precision and care? What about the mail carrier, retail worker, teacher, or craft person?
Jobs and occupations make up the big theme of People Power Jigsaw Puzzle.
You'll cruise through a large collection of puzzles that picture everyday people doing work. Each representation visualizes the essence of different trades and skills.
Every puzzle has an Easy, Medium, and Hard mode giving you 150 total levels to solve. Watch the biologist - geneticist come together in this 30 second video captured on an iPad.
Discover more. People Power Jigsaw Puzzle is a mobile game primarily for iPhone - iPad. We do have one version for Android. Enjoy!