0 Power To The People Jigsaw Puzzle App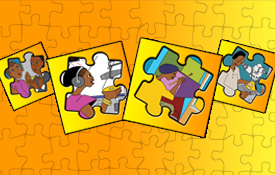 Billions of people do millions of activities. What do you do? The narrative of work, fun, leisure or responsibility can paint a brilliant mind picture of people engaged doing something wonderful.
It's time to salute everyone who makes a colorful contribution to living.
You'll find just that in the People Jigsaw Puzzle game mobile app. It's a visual salute to folks who do what they do.
Enter the nurse, doctor, artist, painter, guitarist, sculptor, farmer, cashier, DJ, drafter, teacher, laborer, postal worker...you get the picture.
These are just a handful of the jigsaw puzzle people you'll find as we spotlight our colorful world citizens.
People Jigsaw Puzzle for iPhone, iPad, and Android includes 50 easy, 50 medium, and 50 hard levels for a total of 150 ways to have fun. Each level has a countdown timer based on the difficulty.
Watch the video below then grab People Jigsaw Puzzle game app from your favorite app store for free or read more about People Jigsaw Puzzle app here. This app was launched on April 1, 2020 (no joke). It's real!