0 RnB and Hip Hop Quiz Rules, Your Way Video
by

Kingsley Hugh Smith

06/21/2023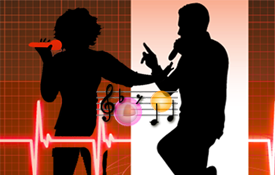 Whether your favorite sounds come from the school of Earth, Wind & Fire, Stevie Wonder, Diana Ross, Beyonce', Naughty By Nature, A Tribe Called Quest or Salt-N-Pepa, RnB and Hip Hop Quiz trivia is a music throwback game you'll really enjoy.
The version above is for iPhone or iPad. We also feature Android. Watch the video to see the iOS gameplay.
When you set things up before playing for the first time:
Choose your avatar on the home screen upper left
Toggle music and/or sound effects in settings upper right
Play to select single answer, multiple, or true or false
Touch time limit or no time limit
Scroll to pick an R&B or a Hip Hop level
Loads of trivia, lots of fun!
The android version leans into multiple choice questions exclusively and shares the same range of questions in either the R&B or Hip Hop levels that you can choose in any order you want.
I really like the iOS version and play it on my iPad. Since Android is my main phone, I play it there a lot too! RnB and Hip Hop Quiz trivia game is free from your favorite store.