0 Santa Jump Game Pole Hopping High Jinks!
by

Kingsley Hugh Smith

11/25/2022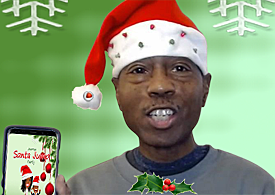 How is your hand - eye coordination when tapping and touching your mobile screen?
Do you describe it as diligent dexterity, positive proficiency, complete competence or "blind as a bat" blinking?
Maybe it's not so good? Want to take it from zero to hero?
Santa Jump Game puts your dancing digits in full gear for a fun-filled finger flexing fling.
Developed for Android and iOS, this is a holiday mobile game that's way to simple to play but is as difficult to master as 'the force' is in Star Wars.
Your Santa is the life of the holiday party hopping from pole to pole. Unfortunately sliding down the next pole is another occupant taking up space.
This is target practice leaping into the jump zone so don't despair.
Four Santas, two owls, unlimited poles, and no time limits combine for a challenge you'll want to jump on.
Watch as I play Santa Jump Game with a special surprise somewhere in the two minute plus video! Check out the Santa Jump Game Holiday Sweatshirt.