0 Snakes and Ladders Mobile Board Game App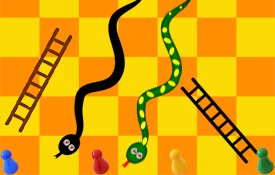 According to the Times of India, "The board game, today called Snakes and Ladders, originated in ancient India, where it was known as Mokshapat or Moksha Patamu."
Ancient is an understatement! The Times of India adds "According to some historians, the game was invented by Saint Gyandev in the 13th century A.D."
"Originally, the game was used as a part of moral instruction to children."
"The square in which ladders start were each supposed to stand for a virtue, and those housing the head of a snake were supposed to stand for an evil."
You can learn more about the game backstory elsewhere. Luckily, we aren't interested in teaching you morals here!
As board games go, Snakes and Ladders is a classic. One of our summer of 2021 projects was to create our first mobile board game.
This is it.
Here's a sneak peak at the finished mobile game in the video below. Some more tweaking is in store including increasing the size of each square.
Game play is person vs. person, or person vs. device (artificial intelligence).
In the slightly sped up 45 second example video below all four players roll the dice themselves by touching the 'Roll Dice' button in their color (bottom of screen).
Our Snakes and Ladders game is currently in Portrait view. We may experiment in making it landscape instead so the game board can be bigger and wider.
Take a look and expect a fall 2021 release for iPhone, iPad, and Android. An enjoyable game is coming for all ages.