0 Swinging Santa Safely Jumps For Joy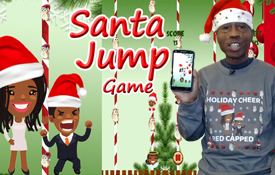 Had enough of Office Christmas Party, Bad Santa, or Reindeer Games. These wild December holiday movies might bring you cheer or get you fired if you act out the fantasies in the films.
Get fired-up instead on the safer side of life playing Santa Jump Game Party, a mobile marvel of an app mixing action with patience. Just a touch is all it takes to get Santa to hop over to the next pole.
We wanted to offer you some free promotional copies of our exclusive "Holiday Cheer Red Capped" 'ugly' sweatshirt, but supply chain issues have made that contest possibility a bust for Christmas 2021.
Mediums, Large, and X-Large sizes are temporarily missing in action and not available from our supplier.
Watch me play Santa Jump Game Party for iPhone, iPad, and Android. I'm playing on an Android device (phone) in the video below.