0 Thanksgiving Retro Match 3 Game
by

Kingsley Hugh Smith

11/01/2023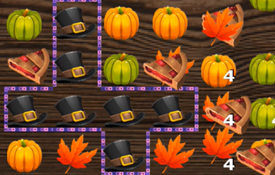 Here's a mobile game that you can play year-round, but especially during the Thanksgiving season as we celebrate with family and friends.
The iOS version, (not shown here) is a swap to match game, as is our Always Thanksgiving game for iOS and Android.
In the 20 second video below is our updated Android legacy Thanksgiving pleaser: Thanksgiving Retro Match 3 game. Just tap to match and you are on your way! Still free, still fun, still fast, and still a favorite.
text