0 The Complete Beginner's Guide to Blackjack 21 AA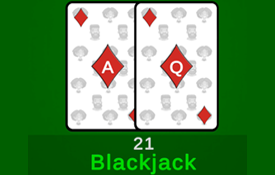 Blackjack 21 is a fun game to play on mobile. Unlike video poker, roulette, baccarat and other card variants Blackjack 21 is a breeze to learn.
Blackjack 21 AA is our version of Blackjack developed by yours truly and the Quikthinking Software team.
Count any ace as 1 or 11, any face card (Jack, Queen, King) as 10, and the other cards below 10 at face value.
Each participant receives two cards to start play.
You (the player) and the dealer attempt to get a count of 21, or as near to 21 as possible, without going over twenty-one.
We left out insurance, doubling down, and more advanced Blackjack techniques so you can focus on playing and learning the basic game.
Watch my 8 minute video showing you what it takes to score while boosting your win tally.
Blackjack 21 AA uses simulated money. No real money is used in this mobile game for Android or iPhone - iPad. For entertainment only for you to enjoy!