0 Zodiac Signs Horoscope Astrology Mobile Game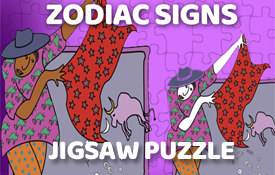 Have you missed our Zodiac Signs Horoscope Astrology Mobile Jigsaw Puzzle Game app?
One year ago we dropped this game into the app stores. The gameplay focuses on the Zodiac symbols. We left the Astrology element to those who use the sun, moon, planets, and stars to predict the future.
All 12 signs of the Zodiac in this game use three sets of images to shine a light on either people, the symbols, or celestial constellations.
There are 50 core levels divided into easy, medium, or hard.
That's 150 total levels to keep you playing for as long as you like. Zodiac Signs Jigsaw Puzzle is a vertical mobile game making it easy to play on your iPhone, iPad, Android, or tablet wherever you are.
Download the free app and leave a review.
Learn more by watching the 3 minute 30 second video below.