0 8 Black History Inventors Countdown
by

Kingsley Hugh Smith

07/19/2023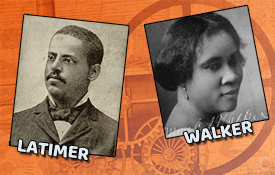 In 2022 when I visited the The Hagley Museum and Library on the banks of the Brandywine Creek in Wilmington, Delaware, inventors galore from all cultures were profiled in a special featured exhibition.
8 Black History Inventors Countdown was part of the produced video The Nation of Inventors - and the app that honors them.
This time, let's focus on just the eight inventors who made some marvelous contributions to solve simple problems with solutions we all benefit from today.
Discover all 50 plus creative minds in the Black History Inventors app for iOS and Android. Watch the countdown. The order we present is not a competitive ranking.