0 AA eMojis for iPhone iPad Video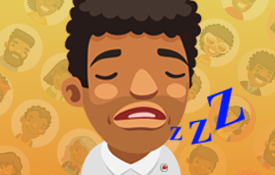 Wake up guy! You too can enjoy the AAeMojis experience on your iPhone or iPad. We recently updated the mobile app for iOS complete with a new emoji expression by request.
These Black emojis get the job done expressing you when you text. Learn more about African American Emojis for iOS and Android.
iPhone or iPad installation is a breeze as I show you in the video below. Just remember to do these important steps in order for iOS:
Install the app then open it
Download the emojis within the app to save on your device
Grant access
Go to Settings> General > Keyboard > Keyboards > AAeMojis
Grant keyboard permissions "Allow Full Access