0 AAeMojis And More In 2020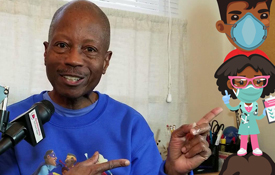 2020 was both a year to remember and a year to forget. You probably are as anxious as I am to get back to the normal flow of a 'socially un-distanced' world.
As we leave 2020 behind, I turn your attention now to the app world below.
We've received a lot of feedback about AAeMojis over the past 12 months. What are AAeMojis? Keep reading. I thought a brief look at 2020 with AAeMojis center stage might be entertaining.
Thank you for a very good year! We released 5 new mobile apps, all games: 1 for Black History, 1 for general fun, 1 music quiz, and 2 jigsaw puzzles.
Here are the Quikthinking Software Apps.
Two other apps were completed but not launched. One of them will be released in days!
As a former journalist who has written and produced formal end of year audio retrospectives, many 'year in review' yarns can be boring.
Our look back at the past year keeps it light hearted aligning with our regular mission. We are a mobile software studio focused on creating entertaining or enlightening apps.
So what are AAeMojis. AAeMojis are African American emojis for iOS and Android. You can use them for text messages. You can use them for Facebook comments.
These emojis aren't really U-S citizens, but they can fit in well worldwide in any country. You'll see on screen in the video the many ways AAeMojis have popped up during the past year in a lot of what we do.
So watch the highlights from the AAeMojis universe along with another 2020 surprise treat plus more. Enjoy!