0 Black Audiobook Gives You 30 History Stories
by

Kingsley Hugh Smith

02/22/2023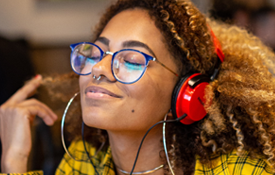 As Black History Month 2023 rolls to an end, you may want to get a hold of our 100% free Black audiobook. You'll hear 37 minutes of detailed informative stories reflecting American history. A global influencer is represented in the book too.
Black History Audiobook tackles the tough subjects: Affirmative Action, African American Demographics, America's Black Patriots, and African American Authors.
Besides the movements, the stories include Thurgood Marshall, Nelson Mandela (he's a bonus), Bessie Colman, Madam C.J. Walker, and 26 more.
Listen to samples of nine influential contributors to American history and the world read by me (Hugh Smith) and announcer Shenteria Childs in this short 3 minute video.
We read all 30 stories in the app. See the link below the video (you will stay on our website).
Put Black History Audiobook on your iPhone or Android mobile phone. The app is scheduled to included even more great stories in the coming months!