0 Black History Express App Stories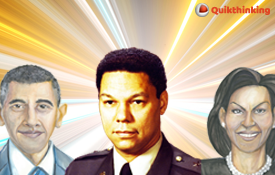 Three familiar faces: President Barack Obama, former Secretary of State Colin Powell, and former first lady Michelle Obama.
Custom portraits of the Obamas sketched for Quikthinking Software by artist Julia Liberali.
General Powell passed away on October 18, 2021.
Powell (1937 - 2021) was born in Harlem, New York on April 5. During his distinguished career, he served as a four-star general, National Security Advisor, Chairman of the Joint Chiefs of Staff, Secretary of State, and as the mastermind of operation Desert Storm (against Iraq).
He entered City College of New York in 1954 as an engineering student. He switched his major to geology one semester later, then entered the Reserve Officers Training Corps (ROTC).
Powell credits ROTC for giving him an important life change direction that was very influential in shaping his character.
The story of Powell, the Obamas, and hundreds more are included in our popular Android mobile App Black History Express.
Black History Express is a story based collection of biographical information paired with a trivia quiz game for you to enjoy.
Dive in, explore the stories, and discover more from the link above to download. Here's the original Black History Express digital press kit on our website: bit.ly/bhepresskit.