0 Black History Names - Arena Spelling Games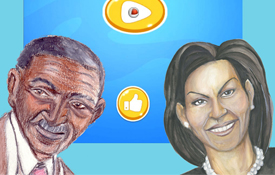 The keyboard on your mobile phone or tablet is very important. Two of our games take you into tapping, touching and using your keyboard to construct names or words.
First, let's thank the artists we commissioned for the pictures you see, Olivia Burton who drew George Washington Carver, and Julia Liberali who drew Michelle Obama.
Black History People Game floats names down your screen. A person's first name is followed by their last name. Touch your keyboard to spell the name before any letters hit the white foul line.
Spelling Runners is an arena battle between two players. The keyboard is inside of the stadium field.
You are the green runner. Drag your finger to move green runner to the correct letters to complete the word.
Both of these games are for iPhone, iPad, and Android. Watch and listen to the video, then learn more about Black History People Game and Spelling Runners Game.