0 Hip Hop Quiz App Expands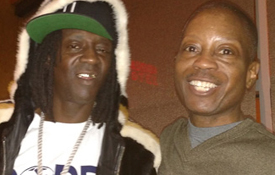 (Public Enemy's Flavor Flav with Hugh Smith at Kelsey's in Atlantic City, NJ)
More than any other hip hop group, we've seen Public Enemy most often all over the place including The Apollo Theater in New York City, the Convention Center in Atlantic City, NJ and the Lisner Auditorium in Washington, DC.
We took the photo below at the Lisner in 2015.
Dive into the world of hip hop and test your knowledge with a new, updated version of our mobile app Hip Hop Quiz trivia game.
Discover new questions, new levels, and a new score card.
Watch the video, and enjoy!