0 How African American Artifacts Inspired A Collector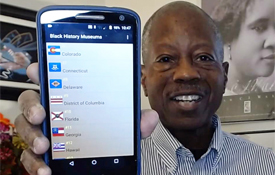 What would you do after years of collecting African American artifacts and memorabilia? Here's what Jeffrey A. Fletcher did. He decided to share his curated history with the community of Stratford, Connecticut.
Even though the last two pandemic laced years have been a challenge for all of us, this obstacle didn't stop Jeffrey A. Fletcher from opening the Ruby and Calvin Fletcher African American History Museum in October, 2021.
On the museum's website we are reminded about the significance of their collection with this statement:
"The artifacts and memorabilia may seem to be difficult to view but they are a part of African American history that needs to be told just as much as the triumphs which were made by African American pioneers and trailblazers."
Our latest December, 2021 Android mobile app update for Black History Museums includes the new Connecticut contribution bearing the name of Ruby and Calvin Fletcher.
The Black History Museums app features 51 selected African American museums or resources from every state and the District of Columbia.
I developed this app in 2016. It has been updated 13 times since then to reflect museum changes.
Watch in the video below how I demonstrate the top 4 reasons why you'll benefit from downloading this 100% free app to your tablet or phone.
December 8th Update: We replaced the original video with this version to update the audio track.