0 I Didn't LOCK DOWN AAeMojis: Here's Why!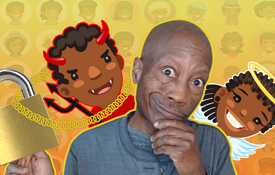 When Android 11 + phone and tablet owners started emailing me about not being able to save our Black emoji collection AAeMojis to galleries on their newer phones, I could have freaked out!
I didn't, because there never was a problem for Android 10 or below!
I've written about this in lots of earlier posts. Here is the full story in this 2 minute 10 second video.
See how I approached the issue to transport frustrated Android users from "disappointment city" to "happy town!"
We also acknowledge our enthusiastic fans inside of the magic AAeMojis box! Thanks!