0 MLK Day Quotes Galore Video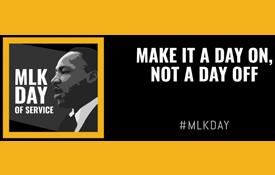 Martin Luther King Jr. was born on January 15, 1929. Dr. King has been honored with a national holiday in the USA on the third Monday in January since 1986.
MLK Day of community service encourages you to get involved locally to help your neighborhood, town or city deal with important civic issues.

Here's a 3 minute video that I produced featuring some of King's quotes in text. We posted it on our sister YouTube channel Black History People. Discover more Black History quotes in our mobile app Black History Quotes Express.
All images and film in the video were taken during a personal visit to the King Memorial in Washington, DC.