0 MLK JR Quotes in Black History Quotes Express
by

Kingsley Hugh Smith

01/11/2023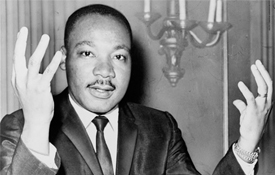 It started with the March on Washington in 1963 up until his assassination in 1968. The FBI engaged in an intense campaign to discredit Martin Luther King Jr. and his work. Film director Sam Pollard chronicles those efforts in his 2021 documentary, MLK/FBI.
You may not know that unfortunate story.
There is a deeper influence of Dr. King's advocacy to appreciate more than just his words from the "I have a dream" speech.
King was in and out of jail fighting for his people's liberation.
We want to focus on the bright side of the King legacy. Here are 25 memorable quotes by world changer Martin Luther King Jr. that you'll find in our mobile app Black History Quotes Express for iPhone and Android.
Touch the enlarge icon (next to the sound speaker image) in the video on your phone to watch full screen, landscape.