0 Moving On: The African American Museum In Philadelphia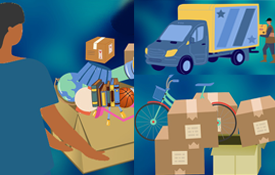 1976. The African American Museum, Philadelphia opened in center city Philly at 7th and Arch Street near Chinatown.
Announced earlier this month, after 50 years, the facility will move to the Ben Franklin Parkway to occupy the same neighborhood as the other really big cultural arts facilities in town.
At their new location the AAMP will be next door to the main branch of the Free Library of Philadelphia. AAMP will triple their current space in their new home.
There is an estimated five year window impacting the move. A now vacant building next to the library will be renovated to house the new AAMP. Public money and private fundraising will finance the move. The possible grand opening: 2027.
To discover more about 50 selected African American Museums or resources, grab our Black History Museums Mobile App a Best Mobile App Award Platinum Nominee.
Watch my video from 2017 about the African American Museum in Philadelphia. Below the story is a link to our entire Black History Museums Video series on YouTube (and embedded in the app).
Watch all 12 Black History Museums VIP Tours on YouTube. Each digital tour is about 60 seconds.