0 Playing RnB and Hip Hop Quiz Trivia Game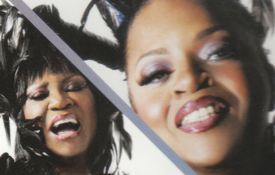 If you are sharp eyed you probably spotted Patti LaBelle on the left in the smaller picture of this post.
Sadly, on the right is Labelle member Sarah Dash who passed away on Monday, September 20, 2021. R.I.P.
Labelle is Nona Hendryx, Patti LaBelle, and Sarah Dash. This photo is from their great 2008 album Back to Now with production contributions from Lenny Kravitz, Gamble & Huff, and Wyclef Jean.
What a wonderful musical legacy these three soaring songbirds have blessed us with.
Back in the day they scored big time with the super hit "Lady Marmalade" in 1974.
It's not important how many Labelle related gems there are in our RnB and Hip Hop Quiz trivia app for iPhone, iPad, and Android but you'll find nearly 600 questions (iOS version) to keep things interesting.
Rather than me listing all of the ways you'll enjoy this app, here's a 4 minute video of me playing the game.
From each genre: R&B and Hip Hop, I'm presented with three questions at random for a total of six questions.
Two single answer questions
Two multiple answer questions
Two true or false questions
See how I do! Grab the free app now. Everything is included. Watch the video, discover more, then musically cover with your mobile device RnB and Hip Hop Quiz.