0 Superhero Flyer App Soaring Video
Superhero Flyer app is not an easy mobile action game to master. Playing looks simple enough, but looks can be deceiving. Watch this video then discover how we developed this game from the drawing board to Google Play in 18 months.
We started with 5 original characters: Scout who is the most vulnerable, Blue who can't survive the large rockets, Trax who has a short life span, and Bambi with Thump. These two ladies just kick butt.
You touch the screen to keep each superhero flying. An unpredictable factor is built into the game. Blue, and Trax have limited life spans that are random. These characters are upgrades from Scout (the character with the 5 lives at the top left of the screen when the game starts).
When Blue is defeated by a rocket, Scout can continue the game. Here is the help screen that you can get to from the game home screen.
There are a lot of power-ups.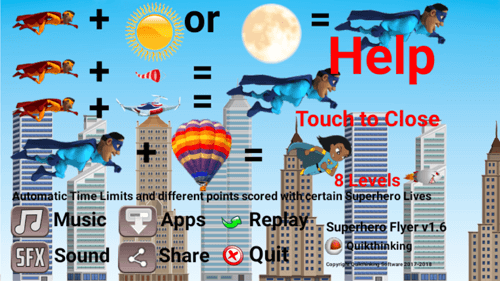 Power-ups include the sun, moon, windsocks, drones, and balloons. Our bird heroes, the eagles, make the game much more of a challenge in several levels. The eagles use their hunting skills to target, attack, and destroy the drones.
Once you get the hang of playing the game, you'll have the most fun soaring along in the highest levels.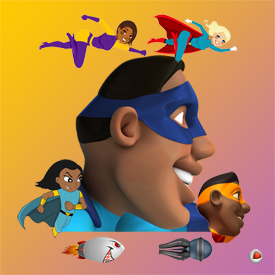 Jump on the leaderboard to track how many points you have scored compared to other players. Most of all, enjoy playing Superhero Flyer.
Learn about the international team who assisted in the development Superhero Flyer.