0 Thanksgiving Story 2019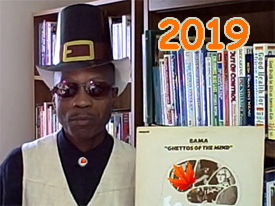 Thanksgiving is wonderful. Family, friends, food, travel, and shopping.
Thanksgiving. The quintessential American holiday. What's a good celebration theme appropriate for an annual tradition? How about a great story!
Here is another video update revision for 2019 this time produced in high definition 1920x1080 with a couple of minor tweaks and a fixed typo.
In 2018 we added the full captioning for those who may not have the sound turned on to hear the voice of the featured bard.
Get ready for an entertaining version of the Thanksgiving story full of satire spelling out the historical truth according to our informed storyteller.
Originally recorded in 1974, the sometimes tongue and cheek prose was written and voiced by Bama, The Village Poet.
Watch the 3 minute 49 second Thanksgiving Story video. We first produced it in 2007 and update it as needed. Hear Bama's take on the holiday in his own words. His opinions are his own and do not necessarily reflect our own beliefs.
While you are in the holiday mood, grab our Thanksgiving Match 3 Game and crush it!