0 The Big Give Back in Fort Lauderdale Florida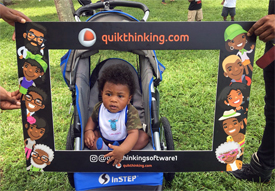 As 2018 draws to a close, we take a quick look back at several of the memorable events we shared with you throughout the year. Follow these pages...
Game Masters, Garden State Comic Fest NJ, Alien Con Baltimore, and Keystone Comic Con in Philadelphia were loads of fun. We love meeting you at these entertaining experiences.
One August event that really stands out is The Big Give Back in Fort Lauderdale, Florida. We partnered with team @shegotgamemedia to have a good time plus raise community awareness about:
1. Bicycle/Pedestrian Safety
2. Child Abduction
3. Music, Arts and Education
Other organizations involved included The African American Research Library and Cultural Center, Broward Parks and Recreation, MVP Management, and The Urban League of Broward County, Florida.
Here are just a few of the selfies taken at the event and shared on QuikthinkingSoftware1 Instagram. Please follow us on Instagram. Thanks!
QuikthinkingSoftware1 Instagram delivers more interesting updates so follow us there too.