0 Veterans Day Appreciation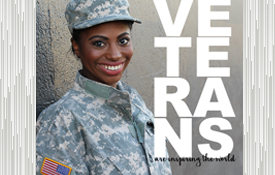 Entertainer Sammy Davis Jr. was drafted into the U.S. Army's first integrated unit. Hazel W. Johnson served her country as Chief Nurse for the Army Medical Command in Korea.
Army, navy, air force, or marines. All veterans including prominent African Americans have served their country. We salute them and those who have made the ultimate sacrifice.
Film maker James Edwards served in the army, and after service enrolled in drama school under the G.I. Bill.
Actor James Earl Jones was another army vet who studied theater after military service under the G.I. Bill.
The G.I. Bill was signed into law on June 22, 1944 by President Franklin D. Roosevelt providing educational assistance to service members, veterans, and their dependents.
Harriet M. West was the first Black woman in the Women's Army Corps (WACS) to rise to the rank of Major (August 21, 1943).
Fender Stratocaster guitar specialist Jimi Hendrix joined the 101 Airborne Division Paratroopers of the U.S. Army in 1960 only to hurt his back and receive an honorable discharge in the summer of 1962.
Chicago's first Black mayor Harold Washington served in World War II as a First Sergeant in the U.S. Air Force Engineers (1942 - 1946).
Roscoe Robinson, a 1982 West Point graduate became the U.S. Army's first African American four star general.
See Black History Express App Stories for the General Colin Powell story.
Actor Sidney Poitier (army), Medal of Honor recipient Brigadier General Charles C. Rogers (army), and Clifford Alexander (national guard and Secretary of the Army in 1977) all served with distinction.
Before stealing baseball bases across America (1947), MLB color line buster Jackie Robinson served in World War II (1942).
Jackie was drafted and assigned to a segregated Army cavalry unit in Fort Riley, Kansas. In January 1943, Robinson was commissioned a second lieutenant.
The man who would make number 42 famous was then assigned to Fort Hood, Texas, where he joined the 761st "Black Panthers" tank battalion.
In the days before they were allowed to participate in direct active duty women also contributed to national service and deserve a Veteran's Day shout-out.
Some of these women were not technically army vets.
Educator Mary McLeod Bethune served as an administrator for President Franklin Roosevelt's Office of Minority Affairs and worked as a special assistant to the Secretary of War (1942) to help recruit Black officer candidates in the Women's Army Corps (WACS).
Community activist Grace lee Stevens was a national organizer for the Women's Army of National Defense (WANDS) during World War II.
You'll find many more veteran contributions in our Black History Express mobile app by searching not only by keywords "army," or "navy," "air force," or "marines," but by others that make sense: "soldier" for example.
We have only scratched the surface. Discover much more in our Android App Black History Express Quiz Game and Knowledge Base.