0 Superhero Flyer App Breakout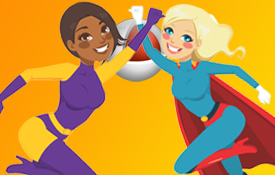 How can you get all the way through into the top level of the scrolling action mobile app game Superhero Flyer? Follow along for more insider tips.
In October, 2017 we released Superhero Flyer for Android in Google Play and Amazon. Now in August, 2019 we've added an iOS version for iPhone and iPad.
Game action is identical across all the levels in all versions. There's a Game Center leaderboard for iPhone - iPad and a Google Play Games leaderboard for Android. Using the leaderboard is optional.
What makes this game so unpredictable is the changing life span of certain superheroes. You have to decide how much risk to take while using strategy to score the most points.
Scout in the yellow mask must avoid all rockets at all cost.
Scout touching a windsock, the sun, or moon can power-up to call Blue (blue mask).
Blue can wipe out the little rockets, but not the big ones. Blue must power-up by touching a colorful balloon to call on Trax, however Blue scores higher point totals than Trax.
Trax can knock out all the rockets. Her screen time is limited.
Thump (purple costume) and Bambi (red & light blue) take care of business busting big time moves on all rocket enemies plus they can pulverize the drones.
Bambi with Thump team up in level 5 and 6.
These two ladies stay around as long as you are scoring. You have to get to the upper game levels first to use their talents! They love balloons so seek out the balloons in the upper levels to score big time.
The eagles know that along with the sun and moon Scout will touch a drone to call on Blue (power-up). Warning. In some of the upper levels, the eagles will attack all drones and knock them out of the sky!
No, you won't hurt the eagles in this game. They usually take cover when the weather gets wet!
Here's the help screen on the iPhone: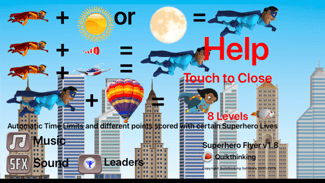 In the game you have to score a certain number of points in the early levels to continue.
If you use the pause button, you can take a game break, but even though the count down timer is paused, you'll have to wait until all of the game characters come back on screen when you resume play (potentially wasting valuable time).
We are happy to share these tips with you! Find out much more about Superhero Flyer in these previous features:
* Superhero Flyer App Soaring video
* Superhero Flyer Game Adds Levels, Leaps, and Leaderboard